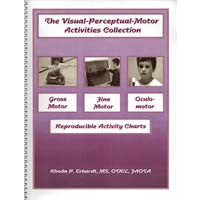 This new 2011 version contains reproducible gross motor, fine motor, and oculomotor activity charts, with more than 800 activities and 187 illustrations. These charts are the tools you need for working in home, clinic, and school settings with children who have learning disorders.
Activities are specifically designed for children 4 to 14 years, featuring tasks and games that are developmentally-sequenced to promote learning and insure success.
Resource sections include illustrated directions to construct low-cost materials/equipment, a list of references, and a CD-ROM with all charts in PDF format for you to print additional pages as needed.
(Spiral Bound, 160 pages) $65.